While working on piecing my quilt, I have it hung in my dining room, designing the colors and shapes by pinning pieces to an old sheet. From time to time I have been sewing pieces that were ready in order to ward off complete boredom because cutting is so tedious. All in all I'm thrilled with the progress I've made.
Yesterday I took a picture, intending to simply brag on my progress but it struck me in looking at the quilt hanging on the wall, how much it looked like something
MC Escher
would draw. The pieces start at the top, sewn together and ironed flat, perfect diamonds meshing into colorful cubes. As the quilt descends down the wall, fewer and fewer diamonds are sewn together until by the bottom they hang crazily by pins, not even ling up with their future rows. At last, the purple part of the quilt is entirely missing, not even cut out yet.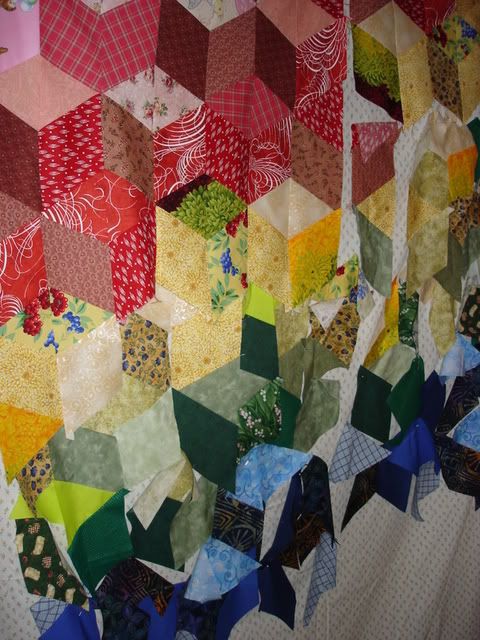 For a minute, I fantasized about taking the whole thing down to the Prichard Gallery and submitting it as textile art. A half-finished quilt, symbolizing the incompleteness we all feel in our lives, the lack of closure, a longing, a shattering of the ideal. Then I laughed at myself and took down a few more squares to sew together.
Thus endeth my career as a world-famous textile artist. I think I should stick with
Photography
.