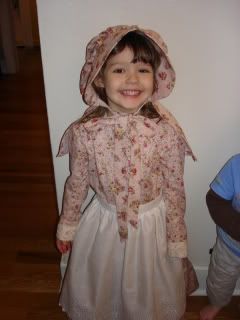 With some free time to sew tonight after dinner it did not take long to finish up the apron and bloomers. After two and a half months, my several-hour project is done!
Persuading Curly Miss to try it on turned out to be harder than making the thing. True to her arbitrary nature and without the enthusiastic peer pressure of her little friend, she refused to wear it once it was done. Finally after much cajoling and tickling from both me and Daddy, she agreed to put it on just long enough to take a picture.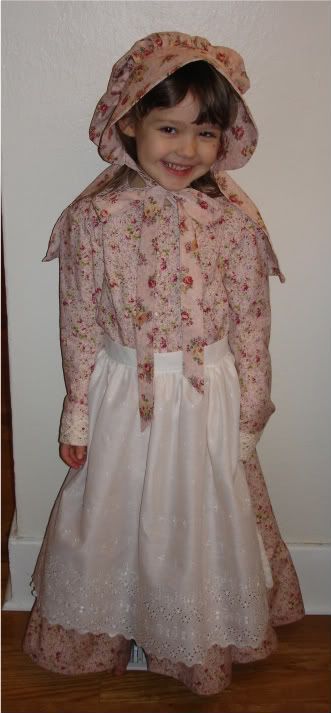 Little Mister, coming to see what Sister was doing, decided he needed some of the attention and finery that was being lavished on her. As I removed her eyelet apron, with much grunting and pointing, he ordered me to try it on himself.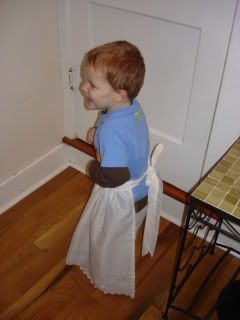 The dress still on her, Curly discovered that it twirled rather nicely and began spinning around. As she staggered toward the wall, Little Mister tried twirling also and soon both children were bumping into the couch, the wall and each other in an attempt to achieve liftoff.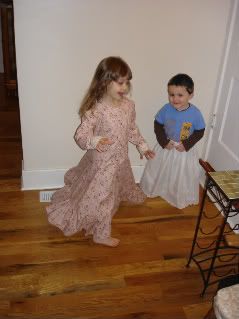 Finally they both calmed down, I removed their dresses and they went with Daddy to take a bath. At some point Curly Miss is scheduled to wear her matching dress the same Sunday as her friend. It may take some serious bribery to get it on her.
As an extra attempt to get her to like the dress, I have been reading
Little House in the Big Woods
aloud to both children. I think Mister has been more interested in Curly, however, and I think he wishes HE was the one being asked to wear such a cool costume. I wonder if I can make him an outfit that would rival this one in coolness. Perhaps a monk's robe?